Be the Safety Lighthouse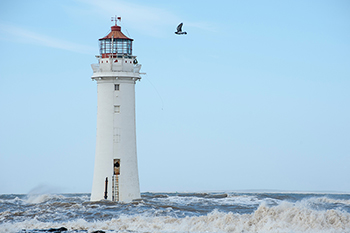 A lighthouse is not something that safety leaders typically think about unless we're taking a boat ride or going on a cruise. Lighthouses are a tool used by seafaring people, and usually the only time a power-line technician deals with a lighthouse is when the power goes out and the technician is charged with getting the power back on. For me personally, I live in a landlocked area and am not well-traveled, so I do not know everything about lighthouses. Why, then, am I writing about them in a post directed toward safety leaders? It is the symbolism and characteristics of lighthouses that I want to share with readers.
Before I get to that, I want to note that when I use the term "safety leader," I am not referring to a specific safety position or designation. Anyone can be a safety leader; you don't have to have a managerial-level job title in order to be one. For instance, I am a manager, but there are many leaders who are employed in my work group. These leaders show up every day and work to ensure that everyone goes home safely and without harm at the end of the day. These are the people who speak up when needed, and who perform work as trained and without shortcuts, even when they are not being observed.
A lighthouse is a beacon that's purpose is to guide and to warn of danger. The lighthouse does not tell sea travelers what path to take; it illuminates danger and lets the sea travelers set their own path. The lighthouse helps the sea traveler to return home safely. When it comes to electric utility work, safety leaders do the same thing as lighthouses by identifying worksite hazards and putting controls in place. They do this not for the recognition, although that is appreciated, but because it is the right way to work.
Lighthouses also shine bright in dark and stormy weather. They sit below the clouds at the level of ships so they can be seen when needed to provide safety. This also is how safety leaders operate. No matter what is happening around them, safety leaders perform hazard assessments. They stop unsafe work until it can be made safe. The right decisions are made, and everyone becomes accountable for safety on the site.
A lighthouse stands strong in the face of waves and wind. It does not matter how many waves crash, or how high they get, or how hard the wind is blowing, or from which direction – the lighthouse stands tall. These are the same characteristics that make a safety leader a leader. There are always changes that will come; the metaphoric winds regularly change direction. The priorities for work also change – the direction changes and safety leaders still stand tall. A lighthouse, and a safety leader, provides safety regardless of challenges.
To my mind, a lighthouse is the perfect metaphor for a safety leader. Telling people to be safe does not provide safety. One of my favorite sayings is "I can't hear what you are saying because your actions speak so loudly." Actions – not words – demonstrate who you are. Be the safety lighthouse, standing tall and steadfast in your position, regardless of waves and bad weather, shining for all to see and protecting others from harm.