The Canadian CUSP program has been paused and will restart in Q1 of 2024.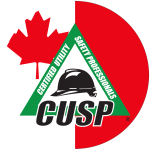 The CUSP credential is now available in Canada. The Utility Safety & Ops Leadership Network (USOLN) has provided the national framework for standardized utility safety professional certification, sharing of utility best practices, and opening up a wide network of industry professionals as a resource for advancing safety in the industry, in Canada, and internationally.
Given the variation in occupational health, safety, and utility regulations in the Canadian provinces, the focus of the Canadian program is the development of best practices with due consideration of the provincial internal responsibility systems. Best practices typically set the operational standards above provincial regulations. They also establish the most common methods to achieve operational success within the parameters of common regulations, provide work techniques inclusive of the collective trade experience, and debunk field-level work practices that counter those efforts.
However to achieve some level of synergy in the utility standards, information will be driven by CAN/ULC-S801-14 Standard on Electrical Utility Workplace Electrical Safety for Generation, Transmission, and Distribution. Some Canadian utilities are in the process of a gap analysis of CAN/ULC-S801 and the existing provincial electrical utility regulations. Various other CAN/ULC standards within S801 will also be referenced as standards applicable within the CUSP program. The remaining body of knowledge and standards will be referenced from multiple benchmark standards like CSA, ASTM, and NFPA to name a few. The purpose of these selected standards is to have a common source of practices that are referenced as standards within provincial regulations.
The CUSP exam in Canada will contain information and standards relevant and inclusive of all common provincial practices. There is no reference to specific provincial or territorial regulations. The standards portion of the program will be based on an understanding of what the provincial and territorial regulations have in common as baseline practices. The scenarios presented within the body of knowledge will be better understood by those persons already practicing health, safety, and work methods within the utility industry. This is important as the CUSP program was created to develop an experienced group of safety professionals already working within utility operations.
How does the CUSP Credential benefit the Canadian utility workers?