Michael Stremel wins 2012 John McRae Safety Leadership Award
MICHAEL STREMEL WINS JOHN MCRAE SAFETY LEADERSHIP AWARD
Award Honors Those in the Utility Industry Who Best Display Strong Leadership in the Field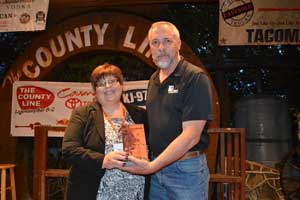 CRYSTAL LAKE, Ill. – May 16, 2012
The Utility Safety & Ops Leadership Network (USOLN) has awarded the 2012 John McRae Safety Leadership Award to Michael Stremel, CUSP, of Midwest Energy Inc. in Hays, Kansas. He received the prestigious honor on May 1 while attending the iP Safety Conference & Expo in San Antonio, Texas.
The John McRae Safety Leadership Award was created to honor John McRae, a fourth-generation lineman who enjoyed an inspiring 42-year career before passing away on July 27, 2010. He was active in the military reserves for nearly 30 years and instrumental in establishing the Massachusetts Municipal Lineman's Association. McRae, a member of San Diego's IBEW Local 465, spoke across the country about electrical training and went on to assist in the launch of Incident Prevention magazine, a highly respected industry resource for utility safety and operations professionals.
Stremel received the 2012 award based on his outstanding commitment to the USOLN, Midwest Energy and numerous other utility industry organizations.
"Michael consistently extends support to the growth of the USOLN and our mission to prevent incidents," said Carla Housh, USOLN executive director. "He has demonstrated strong leadership in all of his committee work. I'm very happy to extend the John McRae Safety Leadership Award to Michael, as he embodies all the award was intended to be."
For more information, contact Carla Housh at 815-459-1796 or carla@usoln.org.